What is the KM plotter?
The KM plotter is capable to assess the effect of 22,277 genes on survival in 4,142 breast, 1,464 ovarian and 1,715 lung cancer patients. The primary purpose of the tool is a meta-analysis based in silico biomarker assessment.
--------------------------------------------------------------------------------------------------------------------------
Latest news >>> maximal number of genes in a multigene signature has been increased to 65 >>> the entire KM-plotter has been transferred to a new server computer >>> More updates
For a general citation of the KM-plotter, please use: Gyorffy B, Lanczky A, Szallasi Z. Implementing an online tool for genome-wide validation of survival-associated biomarkers in ovarian-cancer using microarray data of 1287 patients, Endocrine-Related Cancer. 2012 Apr 10;19(2):197-208. >>> More publications
--------------------------------------------------------------------------------------------------------------------------
How does it work?
The background database is manually curated. Gene expression data and relapse free and overall survival information are downloaded from GEO (Affymetrix microarrays only), EGA and TCGA. The background database is handled by a PostgreSQL server, which integrates gene expression and clinical data simultaneously. To analyze the prognostic value of a particular gene, the patient samples are split into two groups according to various quantile expressions of the proposed biomarker. The two patient cohorts are compared by a Kaplan-Meier survival plot, and the hazard ratio with 95% confidence intervals and logrank P value are calculated.
Are Illumina and Agilent microarrays included?
No. Affymetrix HG-U133A, HG-U133 Plus 2.0 and HG-U133A 2.0 are included only, because these are regularly used and because these arrays have 22,277 probe sets in common. The use of the same probe sets enables to measure the same gene with the same sensitivity, specificity and dynamic range.
Which gene ID can I use?
KM-plot recognizes 22,277 Affymetrix probe set IDs and 70,632 gene symbols (these include the HUGO Gene Nomenclature Committee (EMBL Hinxton) approved official gene symbols, previously used gene symbols and aliases).
Can I use multiple genes?
Yes. Click on the button "Use multigene classifier" and enter multiple genes. You can run the analysis on all these biomarkers simultaneously (default setting), or using the mean expression of the genes. For this, tick the "Use mean expression of the selected probes" radio button. Maximum 65 genes are allowed.
Can I have a better image?
To generate a high resolution TIFF file, please adjust the "Settings" in the analysis page. To change font and the text size, please use our powerpoint template.
I have several candidates. Which biomarker is the most significant?
To correct for multiple testing, please use our multiple testing calculator.
Want to predict survival for a single patient?
Try Recurrence Online, a tool capable to predict response to hormonal treatment, to targeted therapy and survival (recurrence score) for breast cancer patients using gene expression data obtained by Affymetrix microarrays.
The KM-plotter has been utilized among others in studies published in: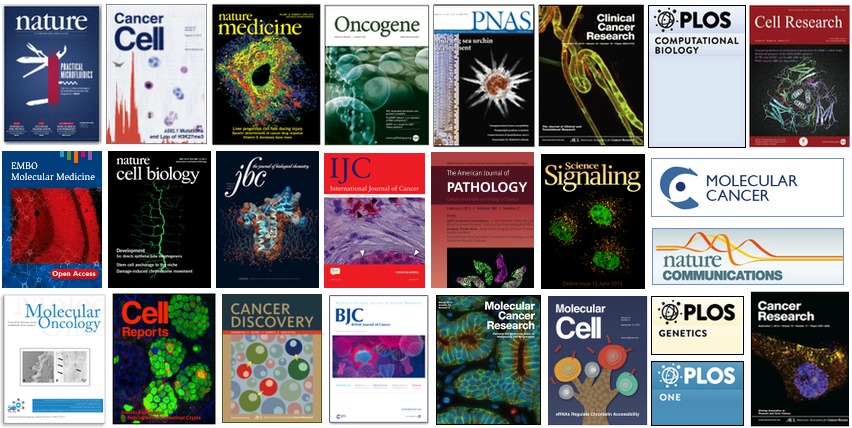 Previous release:
This section has been removed. Please use the "previous release" filter in the analysis page.